Catholic Publishers of Online Curriculum
Ignatius Press, named for Ignatius Loyola, founder of the Jesuit Order, is a Catholic publishing house based in San Francisco, California, USA. It was founded in 1978 by Father Joseph Fessio SJ, a Jesuit priest and former pupil of Pope Benedict XVI. In an interview in 1998, Father Fessio said, "our objective is to support the teachings of the Church". Ignatius Press is the primary English language publisher of the works of Joseph Ratzinger (now Pope Benedict XVI).
Midwest Theological Forum (MTF) is a not-for-profit corporation that publishes materials and organizes courses for Catholic bishops, priests and laity. MTF is located in suburban Woodridge, 30 miles southwest of downtown Chicago. Among MTF's most popular books are Daily Roman Missal, Handbook of Prayers, the titles of The Didache Series, Missale Romanum, Book of the Gospels, Code of Canon Law Annotated, and the Exegetical Commentary on the Code of Canon Law.

School of Faith is a public association of the faithful that provides ongoing adult catechesis at schools and parishes throughout the Archdiocese of Kansas City in Kansas. Through collaboration with My Catholic Faith Delivered, School of Faith is expanding its outreach beyond archdiocesan boundaries through the implementation of state-of-the-art online classes.
School of Faith offers doctrinal and spiritual formation for Catholics through catechetical programs that stress the call to prayer, virtue, and holiness of life, with a particular emphasis on mentoring those who have the responsibility to teach the faith to others.

Catholics United for the Faith (CUF) is an international lay apostolate, building on the only sure foundation for happiness and renewal of the family and society: the teachings of Jesus Christ and His Church. Founded by H. Lyman Stebbins in 1968 to support, defend, and advance the efforts of the teaching Church, CUF has helped tens of thousands of people discover and strengthen their Catholic faith.

In union with and in service of the Blessed Trinity and the Catholic Church, TOBET seeks to proclaim the Good News of Jesus Christ, spread hope, and, by word and example, draw all people into the Communion of Persons of the Blessed Trinity by instructing others about Pope John Paul II's Theology of the Body for the renewal and sanctification of the family, the Church, and the rest of society.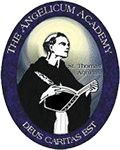 The Angelicum Academy Homeschool Program, officially recognized by the Church as a Catholic homeschool program, now in its 15th year, is a complete, nursery-college homeschool program offering 12 courses in each grade level, including religion with My Catholic Faith Delivered online. Also offered online are Socratic discussion classes for grades 3-8, and our renowned four-year Great Books Program for grades 9-12 with 48 hours of college credit available. In partnership with Ignatius Press and Fr. Joseph Fessio, we also offer four theology courses online for an additional 12 college credits. Visit us at angelicum.net.