Living Catholic
The Archdiocese of Washington and Fr. Mitch Pacwa, S.J. Present - Living Catholic: Foundations for the New Evangelization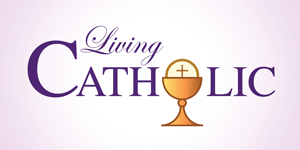 Living Catholic is a short foundational Living Catholic course designed to reach Catholics looking to learn or re-learn the beautiful truths of the Catholic faith which we are all called to share as part of the new evangelization. This course is a response to the Holy Father's call for the Living Catholic.
Based on the Four Pillars of the Catechism, Living Catholic combines themes of prayer, parish life and evangelization to provide a quick walk through the catechism. This course can be used parish wide, individually or in a small group setting. During these four weeks, participants will share faith with others in the program and engage in simple evangelization opportunities.
Using the My Catholic Faith Delivered system, instructors can track survey results, answers and group usage. The per-user cost is $9.99, with discounts for group purchases.
How is the Program Implemented?
Option 1 - Hybrid Course using Parish and Online learning
Includes:
Opening registration and online survey
2-hour opening retreat at the parish covering:

Prayer
Overview and Key Objectives
Proclamation of the Gospel
An overview of salvation history from the Bible

The four-week online Living Catholic course
A closing ceremony including:

Prayer
Evangelization training/discussion
Additional learning opportunities and next steps
Closing Liturgy and Sending
Celebration
Option 2 - Online Only
Includes:
The four-week online Living Catholic course
Presentations from Fr. Mitch Pacwa, covering the opening and closing portions of the parish program
Program Includes:
Video Presentation
Each lesson includes various video presentations, created by the Archdiocese of Washington.
Online Assessments
Each lesson has assessments, which are scored instantly.
Links, Activities and Accessibility
The online curriculum includes links to the Catechism and scripture and pairs the lesson content with activities for evangelization and comprehension. Presentations are available in both English and Spanish, along with captioned versions. Additionally, each lesson's content has a voiceover, to aid in accessibility.